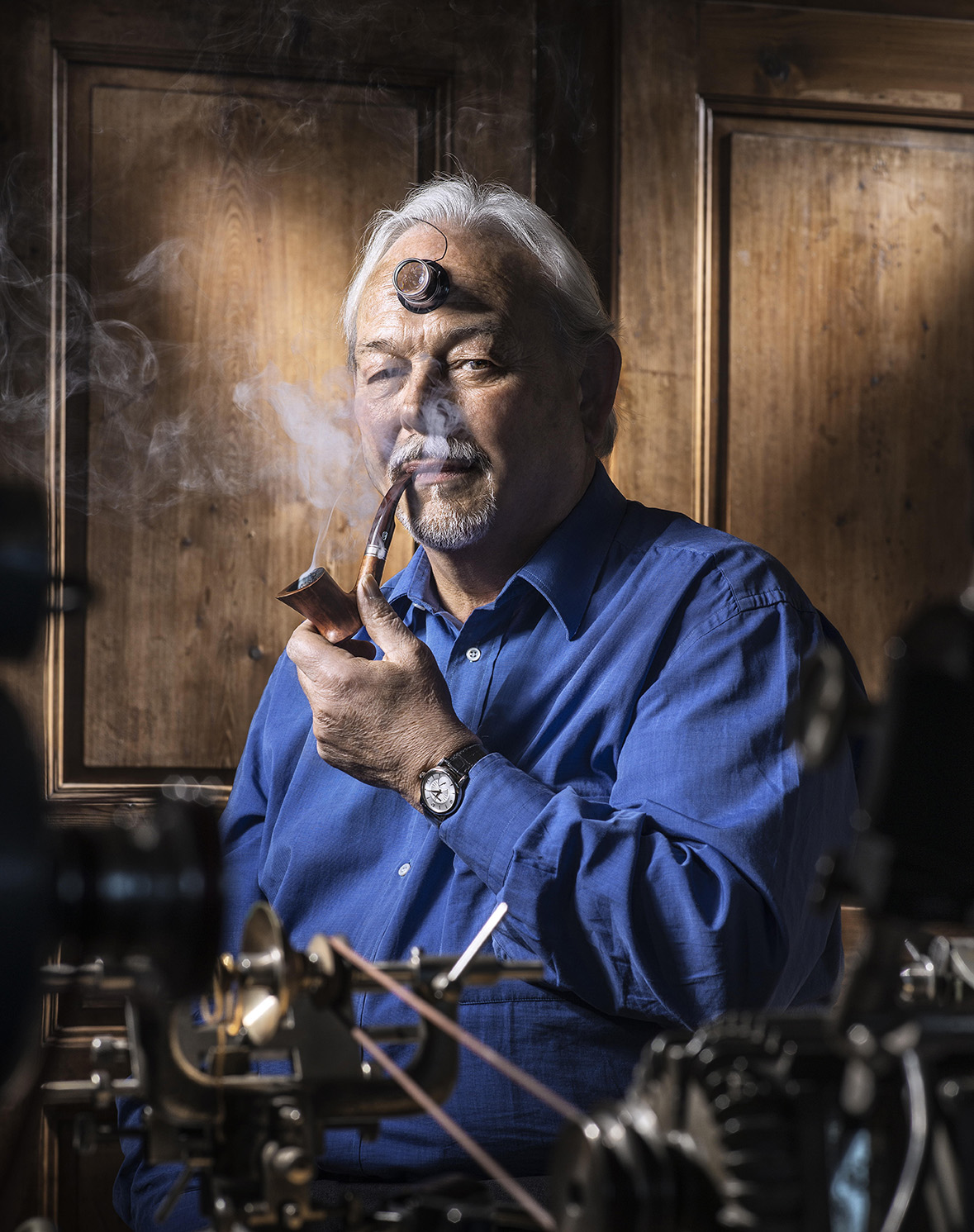 Philippe Dufour is living master of Haute Horlogerie who brings grace to a craft that in his hands, becomes art.
I have had the privilege of knowing Philippe for years. We first met in the auction world, and became closer when we both served as jurors on the Grand Prix d'Horlogerie de Genève, after he had accepted the Special Jury Prize in 2013. There was unanimous consensus for his nomination for the prize, and since then, he has become a valuable member of the jury. No other member can sway opinions as he does during deliberations. When Philippe Dufour speaks his mind, as he often does, people listen.
Philippe is a master craftsman that I have the pleasure of calling a friend. I am moved when he refers to me as his "brother," a testimony to the authenticity of our relationship. I have had the pleasure of sharing many rare moments with him in his workshop in le Solliat, a village in the Vallée de Joux. There, in the cradle of watch complications, he has created some of the most spectacular and desirable watches in the history of horology, for which clients happily wait for years. All the things he is passionate about are right there, his drawings, a good half-century of archives, his customized tools, his priceless prototypes, his work in progress, and his collection of pipes. All the accoutrements of a great artist transferred to watchmaking. What I did not expect to find there were new generation electric mountain bikes, one of which I mounted for a ride in the pathways of the Vallée.
Philippe usually works alone. The atelier is a former schoolhouse, large enough for a team he wishes he had assembled around him. Now, his youngest daughter has joined him and is intent on carrying his torch. In his workshop, the bar is set sky high: there is no room for error. "No compromise, no limit," he says.
In the woods near the workshop, Philippe collects gentian, a plant that flowers against all odds in the Swiss Jura mountains. Distilled into a potent eau-de-vie, it is strong enough to rouse the spirit of watchmakers past. Philippe carves its stalk into a chamfering tool for the meticulous anglage of his components. An ancient tool for the modern age. His reward after a long bike ride is a moment to enjoy his pipe. If not in his hand, the pipe has a special hanging place in a potted tomato plant growing by the door.
Like some of the tortuous bike routes he braves, Philippe has taken a radical path in watchmaking, one that has led him from grand complications to his very own ideal of simplicity. He started out, like many other greats in the field, as a restorer of antique pocket watches. Like an aspiring artist who examines a Rubens to understand how a master captures movement, he scrutinized ancient mechanisms to decipher how old masters of horology made intricate complications with the most basic tools. From there, he moved on to "grandes complications" commissioned by the likes Audemars Piguet. Soon after he had founded his own brand, he measured himself against the great challenge of a grande sonnerie with minute repeater fitted into a wristwatch, an unprecedented feat in 1992. The Duality was born in 1996, once he had mastered the workings of two independent balance wheels to make the world's first wristwatch with a double escapement.
As time passed, Philippe was stirred by purity. Simplicity is a masterpiece he first designed to please only himself. With references to the elegant styles of the 1950s and '60s, it was a success the second it was launched at Baselworld in 2000. In two decades, Philippe has made just around 200 either in gold or platinum. And last year he surprised my son Simon with a one of kind gift he made specially for him – a steel Simplicity – with eastern Arabic markers and a golden "vintage" dial.
The art of Philippe Dufour resides in watches that are impeccable in quality and beautifully hand-finished, inside and out, on all visible and hidden parts. Nothing less than the highest standards of craftsmanship will do, because a Philippe Dufour watch is made to stand the test of time, not just in performance and aesthetics, but so that it can be repaired a century from now. As Philippe says "We are here today, we have to be here tomorrow!"